Dr. Myatt's Christmas Gift Ideas And Suggestions

12/07/07

This Week In HealthBeat News:
Dr. Myatt's Christmas Gift Ideas and suggestions
Laughter is the best medicine: Remembering Hollywood Squares

Christmas Gift Ideas and suggestions
By Dr. Dana Myatt
Hate crowded shopping malls as much as I do? Or feeling stumped about what to give for holiday gifts? Here are some unique gifts for you to consider, and there's still time to order them for Christmas gifting. Best of all, you can browse and order from the warmth and comfort of home --- in your jammies if you want to! ---
instead of fighting the crowds. Here are my top picks for holiday gifting:
Nurse Mark Comment: Be sure to check out these suggestions if you are looking for a bargain - Dr. Myatt has negotiated special discounts for Wellness Club members!
And, don't forget that you can give the gift of good health anytime - just call me at 1-800-Dr Myatt (1-800-376-9288) and tell me that you would like to give someone you care for a Wellness Club Gift Certificate. We'll send it in the amount of your choice to the person of your choice with the message of your choice in a nice card.

Music Boxes and Musical Jewelry Boxes.
You really need to check these out! A thoughtful and unique gift for both men and women. These are top-quality gifts at most affordable prices. The music works are Swiss made and sound beautiful. Many of the boxes are fine inlaid wood designs, and you can pick the box and musical tune separately, creating a custom combination.

They have a "Listening Station" where you can hear the tunes played (very neat!), and a custom engraving service if you want to further personalize your gift.

Prices range from under $20 to big bucks, but you can give a fabulous gift for $40-$100. An excellent and delightful gift for both men and women, and perfect for the person who already "has everything." (Bet they don't have one of these)!

Their shipping is lightening-fast. You'll have your gift in a couple of days. Order through this special Wellness Club member link and get an additional 10% off the already-low prices: Wellness Club members and HealthBeat subscribers save an additional 10% off at Music Box Attic on any purchase by using Coupon Code "percent10".
Sink and/or Shower Water Purifier.
Know someone who is still buying bottled water? (Or worse, drinking unknown tap water?) Or showering in chemical-filled municipal H2O? Aquasana makes a nifty sink water purifier with a sleek design and easy installation. Ditto for a shower-head water purifier. Best of all, these water filters and purifiers have received the highest ratings for quality.

A very thoughtful and healthful gift. Head over there today if you want to grab a "special" they're featuring: both sink and shower purifiers in a smokin' deal combo package.
Organic Salmon and Seafood.
We all know that salmon is healthy, but only if it is wild caught Pacific salmon. Vital choice has some of the finest salmon and seafood available anywhere, delightfully packaged for easy gifting. Recommended by Dr. Perricone, Dr. Christiane Northrup and of course by Dr. Myatt!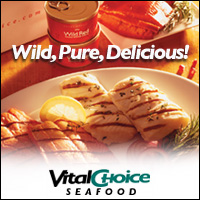 Flowers, Live Plants, Gift Baskets and More.
This is my favorite flower delivery company, but I hesitate to call them just "flower delivery" because they have so much more. Great gift baskets, including wine and cheese baskets, plus living plants that will be treasured long after the holidays are past.

Best of all, you can shop from hundreds of arrangements from home and most can be delivered the very next day. (I wouldn't recommend waiting until the day before Christmas to order, however). This is a great resource to keep on hand for other holidays, birthdays, sympathy, get well, anniversaries.

They have been voted "Best online Florist" a number of times. Shop for Flowers, live plants and gourmet gift baskets.
Perhaps A Cruise Vacation:
Looking for Something Really Special? How about a luxury cruise vacation? Whether to local ports of call like Hawaii or Alaska, or someplace warm like the Caribbean or Bahamas, or a fabulous tour of Europe, cruising is the preferred way to vacation.

Unpack only once and see many beautiful ports of call, enjoy world-class buffets and entertainment daily, and be pampered like the finest luxury spa by day.

Search cruises by length, location, price (and these folks offer a "low price guarantee, meaning you won't find a great cruise for less anywhere). Online Exclusives - Find the Perfect Cruise


Imagine how surprised your special someone would be to receive tickets for a cruise vacation!

Nifty Gifts Under $20.
Got a list of friends you'd like to gift, but can't afford to spend a fortune on each one?
Collections has a large selection of nifty gifts, nothing over $20. You're sure to find something suitable for the "friends" list.

A note of caution: the gifts are good, as represented in the catalogue. But they come in funky, junky boxes. Expect to re-box these items to show them in their best light. Other than that, this is a great place for inexpensive presents (including some great gifts for kids).

Order through this link and get an additional 15% off any total over $65. Wellness Club members and HealthBeat subscribers take an additional 15% Off purchases of $50 or more at Collections Etc. Enter Source Code: 3CZZM5. Offer expires December 31, 2007
Remember Our US Troops for Christmas.
Head on over to Healthy Troops and send a service man or woman a care package for the Holidays If you send a package now, they will still receive it in time for Christmas. You don't have to personally know a troop; we've got lots of them signed up and requesting these packages.
Or (I'm doing this), send a care package to a troop on behalf of someone else, a charitable donation in their name. We'll include a certificate that shows what was sent on their behalf, and any thank-you note we receive will be forwarded to them as well.

Don't Forget Fifi and Fido!
Organic and healthy treats for your favorite four-legged friends. No kidding, they have a special "Christmas gift selection" for cats and dogs. Wellness Club Members and HealthBeat subscribers save an additional 5% through this link: Save 5% on your first order at Only Natural Pet Store! Coupon code CJ15. Save 5% on your first order at Only Natural Pet Store! Use Coupon Code CJ15.

Laughter is Good Medicine: Remembering Hollywood Squares
If you remember the Original Hollywood Squares and its comics this may bring a tear to your eyes. These great questions and answers are from the days when game show responses were spontaneous and clever, not scripted and often dull, as they are now. Peter Marshall was the host asking the questions, of course.

Q. Do female frogs croak?
A. Paul Lynde: If you hold their little heads under water long enough.

Q. If you're going to make a parachute jump, at least how high should you be?
A. Charley Weaver: Three days of steady drinking should do it.

Q. True or False, a pea can last as long as 5,000 years.
A. George Gobel: Boy, it sure seems that way sometimes.

Q. You've been having trouble going to sleep. Are you probably a man or a woman?
A. Don Knotts: That's what's been keeping me awake.

Q. According to Cosmopolitan, if you meet a stranger at a party and you think that he is attractive, is it okay to come out and ask him if he's married?
A. Rose Marie: No; wait until morning.

Q Which of your five senses tends to diminish as you get older?
A. Charley Weaver: My sense of decency.

Q. In Hawaiian, does it take more than three words to say "I Love You"?
A. Vincent Price: No, you can say it with a pineapple and a twenty.

Q. What are "Do It," "I Can Help," and "I Can't Get Enough"?
A. George Gobel: I don't know, but it's coming from the next apartment.

Q. As you grow older, do you tend to gesture more or less with your hands while talking?
A. Rose Marie: You ask me one more growing old question Peter and I'll give you a gesture you'll never forget.

Q. Paul, why do Hell's Angels wear leather?
A. Paul Lynde: Because chiffon wrinkles too easily.

Q. Charley, you've just decided to grow strawberries. Are you going to get any during the first year?
A. Charley Weaver: Of course not, I'm too busy growing strawberries.

Q. In bowling, what's a perfect score?
A. Rose Marie: Ralph, the pin boy.

Q. It is considered in bad taste to discuss two subjects at nudist camps. One is politics, what is the other?
A. Paul Lynde: Tape measures.

Q During a tornado, are you safer in the bedroom or in the closet?
A. Rose Marie: Unfortunately Peter, I'm always safe in the bedroom.

Q. Can boys join the Camp Fire Girls?
A. Marty Allen: Only after lights out.

Q. When you pat a dog on its head he will wag his tail. What will a goose do?
A. Paul Lynde: Make him bark?

Q. If you were pregnant for two years, what would you give birth to?
A. Paul Lynde: Whatever it is, it would never be afraid of the dark.

Q. According to Ann Landers, is there anything wrong with getting into the habit of kissing a lot of people?
A. Charley Weaver: It got me out of the army.

Q. It is the most abused and neglected part of your body, what is it?
A. Paul Lynde: Mine may be abused, but it certainly isn't neglected.

Q. Back in the old days, when Great Grandpa put horseradish on his head, what was he trying to do ?
A. George Gobel: Get it in his mouth.

Q. Who stays pregnant for a longer period of time, your wife or your elephant?
A. Paul Lynde: Who told you about my elephant?

Q. When a couple have a baby, who is responsible for its sex?
A. Charley Weaver: I'll lend him the car, the rest is up to him

Q. Jackie Gleason recently revealed that he firmly believes in them and has actually seen them on at least two occasions. What are they?
A. Charley Weaver: His feet.

Q. According to Ann Landers, what are two things you should never do in bed?
A. Paul Lynde: Point and laugh.